In case you missed the big news...the Gonzaga Zags (my alma mater) are ranked #1 in NCAA basketball this week! This is biggity-big news as the Zags have never ever had this ranking. While anything can happen during March madness, I think it's pretty darn sweet that we are #1 entering tournament time.
In case you'd like to get on the Zag bandwagon (and why wouldn't you?!),here are 11 important things you must know:
1. Know how to say it. It's pronounced gone-zAg-uh. Long a vowel, not short. Please don't say gone-zAHg-uh. It's just not right and it drives most Zags absolutely bonkers. Especially when people say gone-zAHg-uh zAgs. That doesn't even make sense.
2. Gonzaga University is located in Spokane, WA and is a small Jesuit college. It's a special place and I'm grateful for all the experiences and people (like my husband) that I met while I was a student there.
3. The Gonzaga's mascot is a bulldog. And his name is Spike. There is a statue of him outside the kennel(more on that in #4) that you can climb upon, as evidenced below. It's preferred that you keep your eyes open while the picture is being taken. Whoopsies.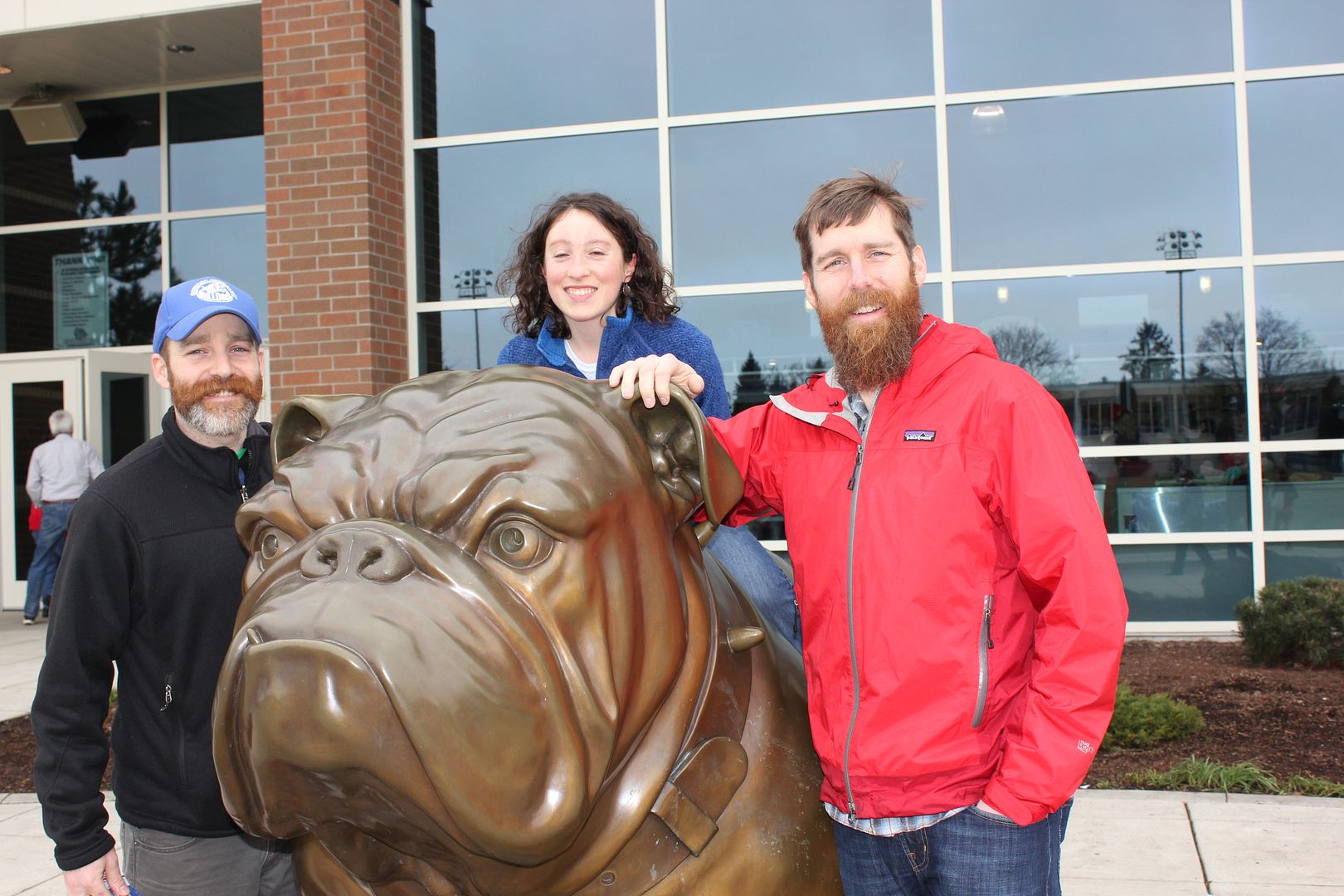 4. The Zags play their home games in the kennel. We like to call this kennel K2 as this is the second kennel (there was a big construction project done in 2004). It's a noisy, tough place to play as shown by their record of 120 wins and only 8 losses.
5. Almost every current Gonzaga student is part of the Kennel club...they cheer at the games and like to celebrate every game with a pre and post party.
6. The Zags have a 29-2 record this season (the best record of any team in Division 1). Their only losses were games against Illinois and a buzzer beater at Butler. And ouch. Those losses hurt.
7. The Zags are part of the West Coast Conference. They have won the conference championship 14 of the past 15 years and have represented the WCC in the NCAA tournament 14 years straight. They were WCC tournament champs 1999-2007, 2009, 2011, and we're hoping 2013!
8. Gonzaga's Kelly Olynyk has been chosen as the WCC player of the year and will be an All-American. He's good and he's a big NBA contender. While we hope he sticks around next year, I think we can understand if he decides to go for the big bucks in the NBA.
9. Just a few of my favorite players this season include: Kelly Olynyk, Mike Hart, Elias Harris, and Guy Landry Edi. And I just happened to snap a picture of them all together last weekend!
10. Gonzaga's most famous alumnus is Bing Crosby. Legend has it, after a long night of crooning, he and some friends pushed a piano off the 3rd floor fire escape of historic Desmet Hall (bada bing, bada boom!).
Other famous alumni include: former speaker of the house Tom Foley, former Washington state governor Christine Gregoire, federal judge Frank Burgess, civil rights champion Carl Maxey, writer Sherman Alexi, NBA players John Stockton, Dan Dickau, Ronny Turiaf, and Adam Morrison, World cup soccer player Brian Ching, MLB All-Star Jason Bay, NASCAR driver Chad Little, and mountaineer Jim Wickwire, (the first American to summit K2).
11. And to top it off...Cowboy and I got engaged and married at Gonzaga! Win or lose, Gonzaga will always hold a special place in my heart.